Rallies both supporting and condemning Beyoncés performance at the Super Bowl are planned to take place outside NFL HQ next week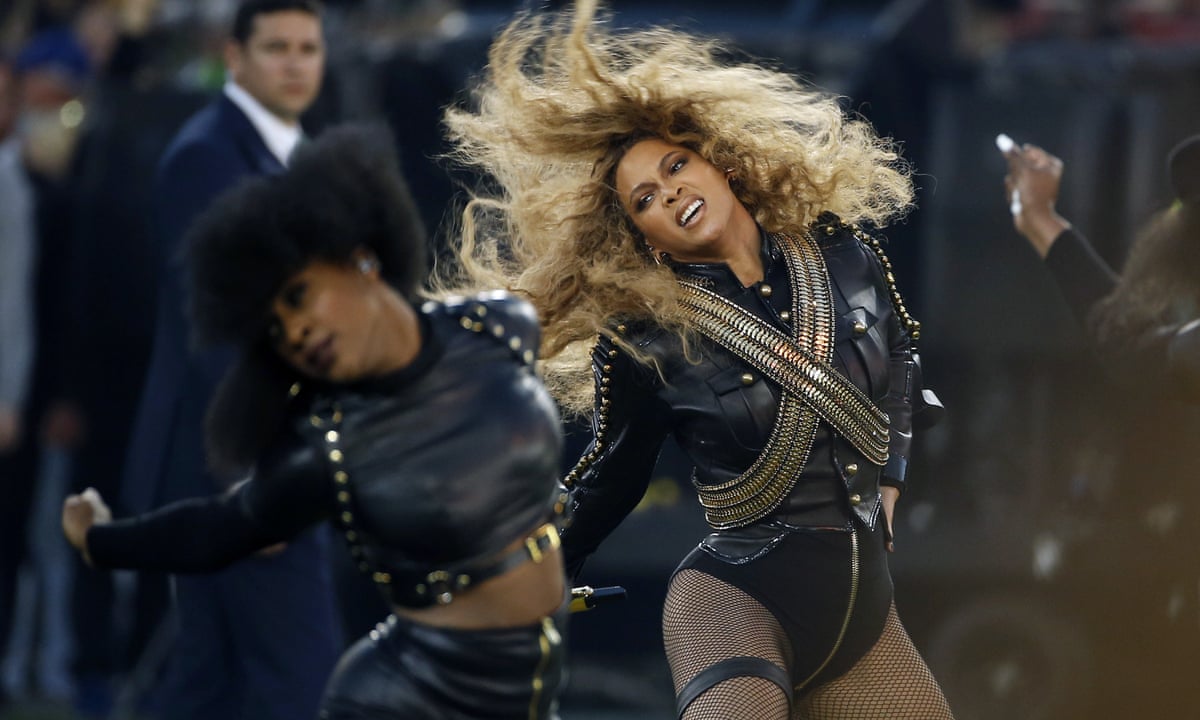 The NFL has been accused of various misdemeanours down the years, from ignoring head trauma to failing to control its players off the field activities. Now we can add another problem to the list: allowing hate speech to be disseminated during the Super Bowl via the medium of song and dance.
That, at least, is the view of a group behind an Anti-Beyonc Protest Rally, which is due to take place on 16 February outside NFL headquarters in New York. Do you agree that it was a slap in the face to law enforcement? Do you agree that the Black Panthers was/is a hate group which should not be glorified? reads the groups posting on Event Brite. Come and lets stand together. Lets tell the NFL we dont want hate speech & racism at the Superbowl ever again! The group did not respond to the Guardians request for more information.
Beyonc was the star of Sundays Super Bowl half-time show, appearing alongside Coldplay and Bruno Mars. She performed her new single, Formation, which referenced the Black Panthers and the Black Lives Matter movement.
The proposed rally is not the only dissent that has risen after Beyoncs performance. On Monday the former mayor of New York, Rudy Giuliani appeared to be particularly incensed by the reference to Black Lives Matter and described the performance as an attack on the police. I thought it was really outrageous that she used it as a platform to attack police officers who are the people who protect her and protect us, and keep us alive, he told Fox News. And what we should be doing in the African American community, and all communities, is build up respect for police officers.
Giuliani also believed the Super Bowl was the wrong platform for Beyonc. This is a political position and shes probably going to take advantage of it, Giuliani said. Youre talking to middle America when you have the Super Bowl. So if youre going to have entertainment, lets have decent, wholesome entertainment. And not use it as a platform to attack the people who put their lives at risk just to save us.
Beyoncs perfomance has also drawn widespread praise and one group has already planned a counter-protest in support of the singer. When Black women affirm Blackness/Black womanhood, they are attacked and silenced, the group said on Event Brite. Sisters, dress in your Formation video/Super Bowl performance-inspired gear and make this a moment a joyous one! Allies and friends, show up and show your support! We have asked our biggest stars to get political and Bey went there. Dont let anyone make her powerful statement about the value of Black life be overshadowed by those who dont believe that our lives matter.
The Super Bowl attracts a huge audience, and the halftime show is one of its highlights. Last years Super Bowl averaged 114.2 million viewers in the US. Beyonc is yet to comment publicly on the halftime show.
Read more: http://www.theguardian.com/sport/2016/feb/10/anti-beyonce-rally-planned-outside-nfl-headquarters-over-hate-speech